Way back in 1998, I started working at Digital Eclipse Software. I was lucky enough to work on games for systems from the Game Boy Color to the PSP. Now my art is on almost every system including the PS4.
​
My favorite weapon of choice for pixel art is Cosmigo's ProMotion.
Last year, I started my own game company, Motor City Pixel Works. After a few false starts, we released our first game, Match of the Living Dead! It's like those candy match games I can't mention without being sued, but with adorable pixel zombies!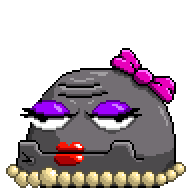 I created all the sprites for the Dragon Fantasy series. Our goal was to emulate the style of such classic pixel RPG's as Final Fantasy VI and Chrono Trigger.

One of my favorite projects we did on the Game Boy Advance, I was in charge of the 'Stitch Tank' among others.
These were sprites created for a personal project that *may* see the light of day soon. A turn based zombie survival game.
To our left we have Wabi Sabi Robi, a little character I came up with for a game idea I was playign with. Below we have two of my favorite characters, Super Jetpack Dragon and Boo-ty. One is the star of an iPhone game and the other a t-shirt! The third is my cameo in The Walking Dead Pinball! Michonne chops 'zombie me' in half with her katana!